Student Disability Commission
F*** Stairs Pledge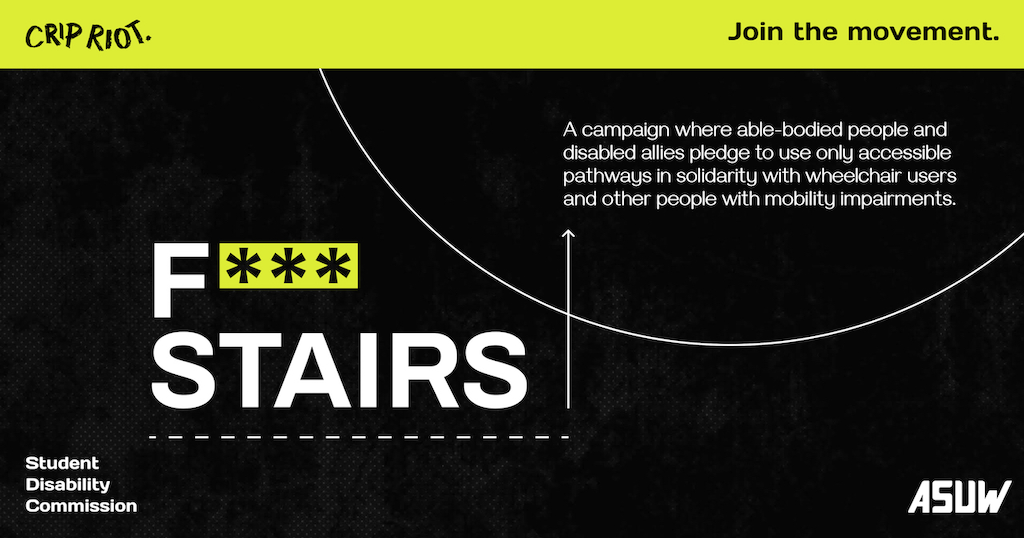 The F*** Stairs campaign at UW will take place on the week of April 11th-15th, where able-bodied people and disabled allies pledge to use only accessible pathways in solidarity with wheelchair uses and other people with mobility impairments. This challenge was created to demonstrate just how inaccessible and unwelcoming physical spaces continues to be, even 30 years after the signing of the ADA.
---
Campaign Rules
1) No stair use, no walking over curbs (have to use curb cuts), no using any pathway that would be impossible or impractical to access as a wheelchair user or an individual with a mobility impairment. This includes building entrances.
2) Exception: You may use stairs inside of UW buildings. We ask folks to avoid elevator use when possible, to keep them easily accessible for those who need them.
3) If you have break the rules above, for example, to get in to your home which has no accessible entrance, please document it to reflect.
4) Feel free to post your F*** Stairs experiences and reflections on social media by using "#FStairs" and tagging @asuwsdc and/or @cripriot.