Student Disability Commission
Welcome to the Student Disability Commission webpage!
The SDC understands disability as not merely an individual or medical problem, but rather the result of social and physical barriers to full participation in society. Also, we recognize that disabilities affect people in unique ways based on culture, race, religion, sexual orientation, class, and political backgrounds. We want to celebrate these differences within our community.
HIRING INTERNS: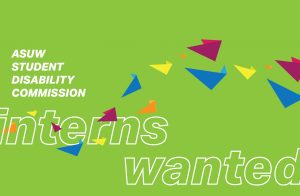 It's that time of year again! Get involved with the SDC through an internship where you'll gain valuable team working and project management skills, all while advocating for disabled students on campus! Our intern application is open until Wednesday, Oct. 16th.
Internship positions (Click for description): 3-10 hrs/week 
Specialized Lead positions (Click for description): 2-5 hrs/week 
If you have any questions, feel free to reach out to us at asuwsdc1@uw.edu