Student Disability Commission
Welcome to the ASUW Student Disability Commission website!
The SDC understands disability as not merely an individual or medical problem, but rather the result of social and physical barriers to full participation in society. We also recognize that disabilities affect people in unique ways based on culture, race, religion, sexual orientation, class, and political backgrounds. We want to celebrate these differences within our community.
Upcoming event: Black Lives Matter and the Deaf Community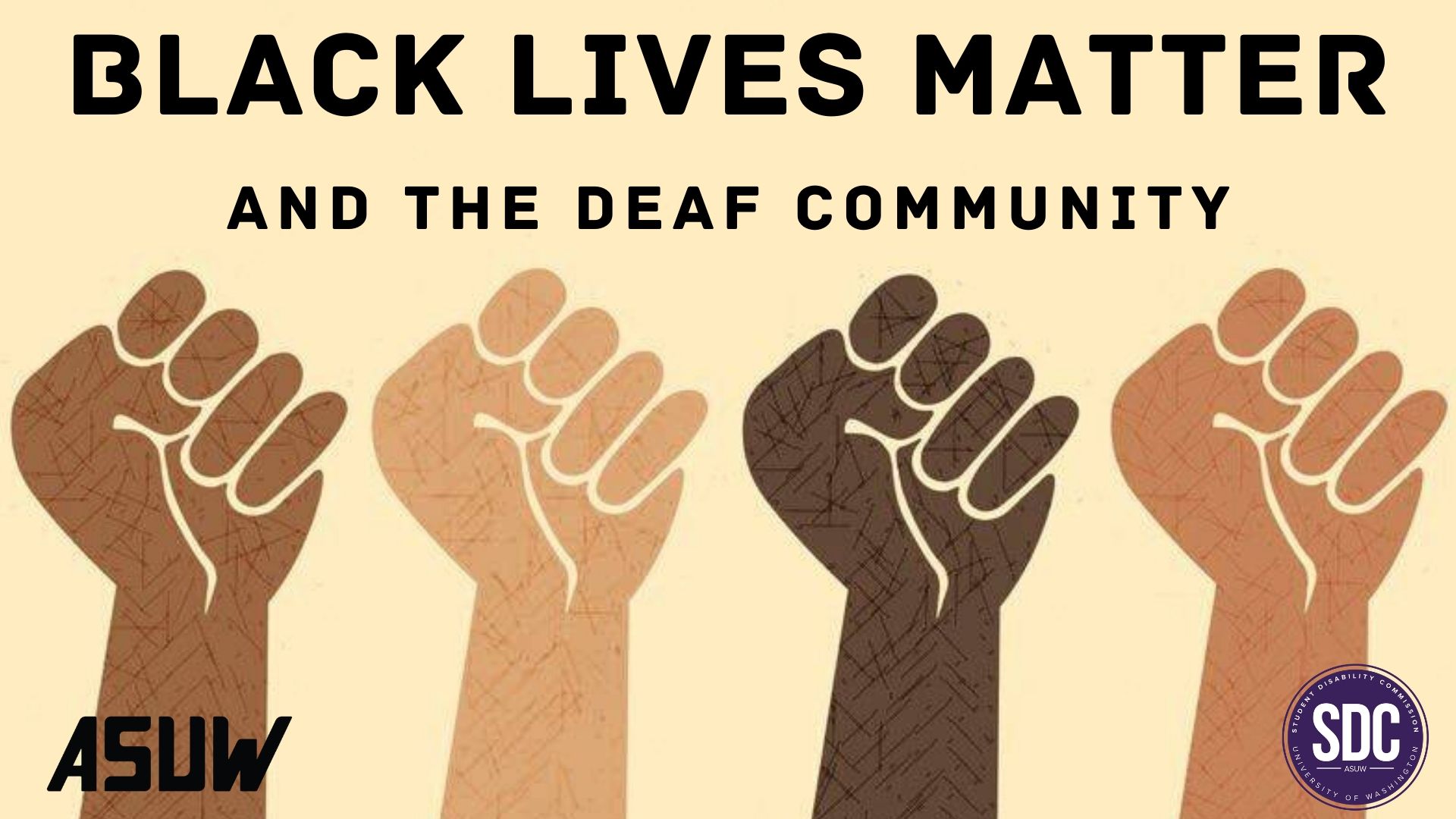 Event Description:
June 19th (Friday) from 2:00pm-3:30pm PDT (Zoom webinar)
Join us for a discussion about the Black Lives Matter movement and the Deaf community! We will be centering the voices and experiences of Black Deaf people, and discussing topics like racism within Deaf history, the intersectional experience of being Black and Deaf, and the parallels of police brutality against Black people and Deaf people. The presentation will be given in ASL. Voice interpretation and CART captioning will be provided. The event will be recorded and made available here, on the SDC website for asynchronous access.
UPDATE: Our Zoom webinar can only hold up to 100 people, and we have now surpassed that number of people registered. We are awaiting approval for live-streaming. IF that is approved, then you'll receive information on how to watch the event live on Youtube!
If we are NOT allowed to live-stream, you will still receive information after the event on how to access the event recording.
We appreciate your patience as we figure out how best to accommodate the large amount of interest in this event!
SIGN UP FOR THE WAITING LIST HERE
Letter of Solidarity
Dear UW community, 
The SDC team wanted to take a moment to acknowledge the immense stress and trauma that we are all facing during this time of racial injustice and a global pandemic. We want to make it clear that racism and police brutality has been happening for centuries, and this is nothing new. To our fellow Black students, faculty, and staff: we see you, we hear you, and will strive to support you in any way possible. 
As we're coming up on finals week, we recognize that it is blatantly unreasonable to ask students, black students in particular, to focus on essays and tests right now. We have been advocating for flexibility in education for years now, and now is as important as ever to emphasize that. If you have a professor who has not reached out to help accommodate students, we urge you to reach out to them (here is an email template at the bottom of this resource that you can use). 
We mourn the deaths of George Floyd, Breonna Taylor, Ahmaud Arbery, and countless others. There is NO justification for a system as brutal, violent, and senseless as the police system, and we must strive continuously for reform/promoting community-based systems instead. We also recognize and mourn the many deaths of Black disabled people, who rest at a dangerous intersection of racism and ableism. The SDC is fiercely committed to advocating for these communities, and we will continue to do everything in our power to ensure that permanent change happens here. 
If there is absolutely anything we can do for you, as a black student, as a disabled student, as students experiencing stress and trauma beyond comparison, please let us know. We are here for you. Our virtual 'door' is always open, and we will advocate for you however possible. 
Also a message to those of you who are sitting on the sidelines right now: Your silence speaks volumes. Being silent means being complicit: we URGE you to donate, educate yourself, and educate those around you. 
With much love and in solidarity,
The SDC team
Attached is a resource created by the wonderful Sahra Ibrahim (ASUW Director of Diversity Efforts) that includes a guide to allyship, places to donate, petitions to sign, ways to educate yourself (books, podcasts, documentaries and movies, articles, etc.), resources for mental health for black students (and all UW students), email drafts, and more.