Student Disability Commission
Welcome to the ASUW Student Disability Commission website!
The SDC understands disability as not merely an individual or medical problem, but rather the result of social and physical barriers to full participation in society. We also recognize that disabilities affect people in unique ways based on culture, race, religion, sexual orientation, class, and political backgrounds. We want to celebrate these differences within our community.
Upcoming Event:
UNIVERSAL DESIGN IN HIGHER EDUCATION WEBINAR
Interested in learning how to make education more accessible? Come join us for an hour-long event led by Dr. Sheryl Burgstahler, the director of DO-IT at UW, who will be providing a brief overview about Universal Design. Universal Design aims to create classroom environments that are accessible and inclusive for all students, without the need for disability-specific accommodations. Additionally two UW disability studies professors, Dr. Joanne Woiak and Dr. Heather Evans, will be joining this event to discuss the importance of ensuring accessibility in UW classrooms. Register for the event using the link above!
Accessibility information: ASL interpretation and CART captioning will be provided. The workshop will be recorded and made available for asynchronous access afterwards.
If you have any questions, please feel free to contact Toby Gallant at asuw.sdc.intern7@gmail.com.
---
SDC JOBS ARE NOW OPEN!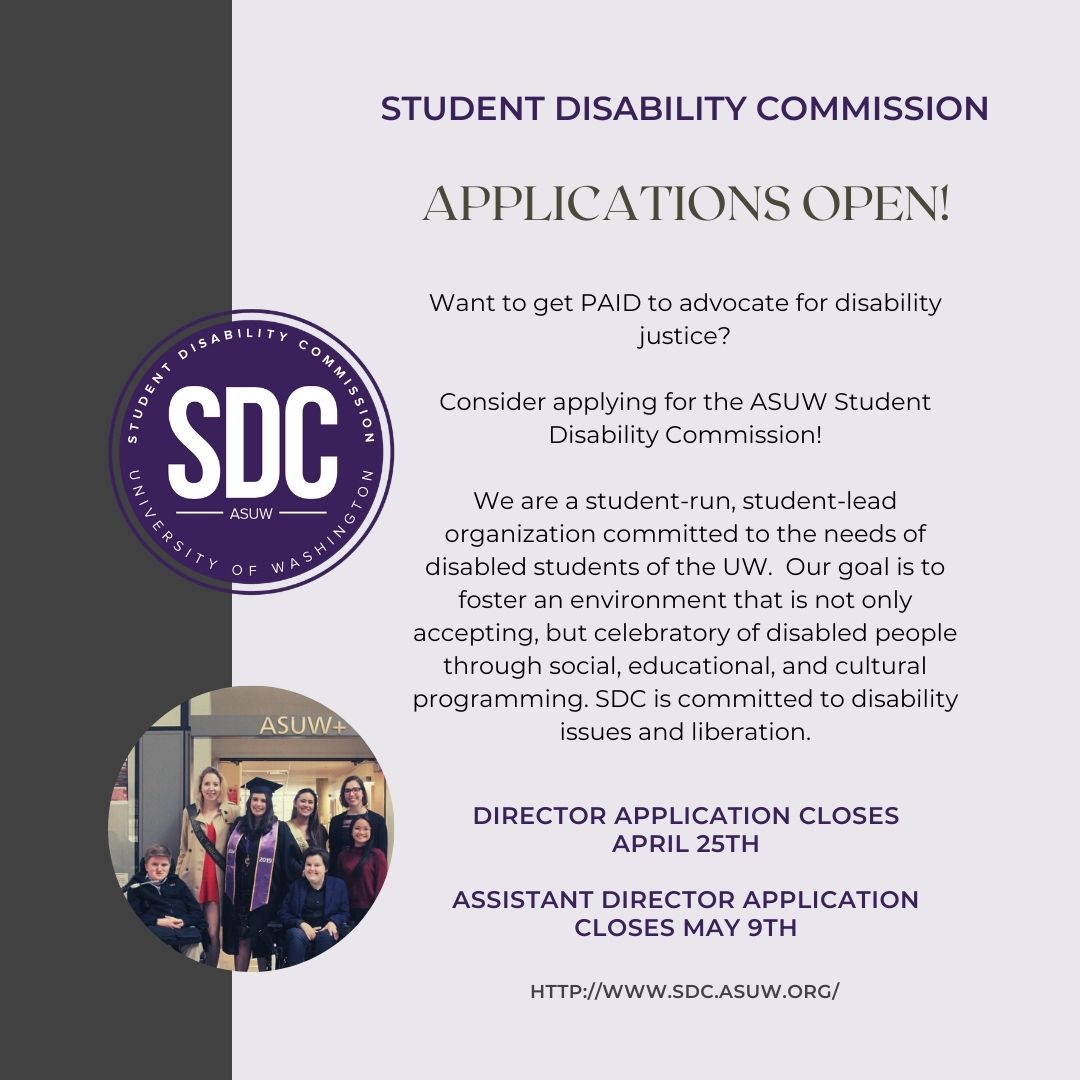 Applications are now open for the 2021-2022 SDC Assistant Director position! Check out the full job description and access the application through HANDSHAKE UW HERE. If you have any questions for the current Director (asuwsdc1@uw.edu) or Assistant Director (asuwsdc2@uw.edu), please email us! We would absolutely love to talk to you.