Student Disability Commission
Meet The Team
Director
Hello everyone! I'm a senior here at the University of Washington, double majoring in Psychology and Disability Studies, with a minor in American Sign Language. Both of my parents are Deaf (CODA!), and my focus is mainly in Deaf pride/advocacy, but as a mad-identifying individual, I've been starting to focus on the intersections of Deaf/CODA identities and psychological trauma/mental illness. I've been involved with Special Olympics Washington for several years, and I'm a volunteer with the Hearing, Speech, and Deaf Center (HSDC) in Seattle. I was the Assistant Director for the SDC in 2018-2019, and the Director last year. If you have any ideas for the SDC, I would be thrilled to chat about them. Catch me in the office someday (when the world isn't on fire and we have the option to be back in person) or shoot me an email and I'll be happy to set up a Zoom chat!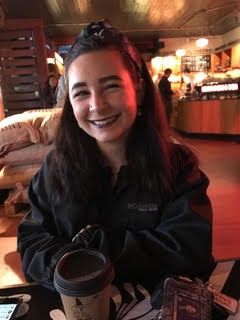 Assistant Director
Devon Sheehan (she/her)
Hi everyone! My name is Devon Sheehan and I am a Junior here at the UW. I am majoring in Political Science, History of Gender, Class and Power, and Law, Societies and Justice in addition to being a UW Interdisciplinary honors student. I served last year as the Advocacy Data Specialized Lead, but I am excited to serve the SDC as the Assistant Director this year. I am passionate about inclusionary learning and making campus more accessible to everyone whether they are a student, staff or visitor. This year I am also serving as the Vice President of the Political Science Honors Society and as a student representative of Unite UW. When I am not serving the community, I like reading, going on hikes and hanging out with my friends at the Unite UW house.
Interns (Photos Coming Soon)
Community Outreach Coordinator
Jim Lawler (he/his)
I got involved with SCD because a community member of mine recommended the organization and I stayed because of the community facilitated by our incredible leaders Christine and Devon! My advocacy focus is on Disability Justice, Access to Education, Geriatric/Bariatric Care, Environmental Justice and Queer Identity. In my free time I like to read and play copious amounts of Breath of the Wild.

Policy Representative
Grace Fredman (she/her)
I got involved in disability activism because disability access and inclusion issues are too often left out of conversations about how to create equitable work, school, and social environments. Disability is experienced by many, learned about by few, and seldom considered by educators and policymakers, and I hope to change that narrative! One fun fact about me is that I go by my middle name (my first name is Victoria) because my mom named me after her! On the weekends I like to bake, read, and try new restaurants (in a COVID-safe manner, of course)!

Healthcare and Disability Advocate
Ishira Parikh (she/her)
Hello! My name is Ishira, and I'm a senior majoring in Disability Studies and Molecular, Cellular, Developmental Biology. As an aspiring physician, I'm extremely passionate about incorporating the social model of disability and advocating for people with disabilities in healthcare. Outside of SDC, I promote inclusive education by creating accessible curriculum with Synbio for Everyone, volunteer for a neurodevelopmental pediatrician at Seattle Children's, and serve as Co-president of Healthcare Alternative Spring Break (HCASB). I enjoy taking long walks, editing photos, and drinking way too many lattes. I'm super excited to work on disability advocacy in the UW community!

Event Planning Intern
Cecialia Macias (she/her)
I got involved because I want to learn how I can individually become a better ally to the disability community and I want to aid in spreading awareness to the concerns of disabled individuals to the UW community :), I can play two songs on the harmonica, my weekends are usually spent at my part-time job at a sporting goods store, but when I'm not working on the weekends, I like to relax at home watching Netflix and Tik Tok. I love Tik Tok so much.
Administrative Assistant
Katherine Chamblin (she/her)
In my first year at UW, I was struck when I was introduced to the social model of disability. I began to realize how disabling the structure of our societies and communities. I wanted to be a part of a movement for accessibility and inclusion of people with disabilities, and create meaningful change. Fortuitously, I happened upon the SDC and am very grateful to have been involved these past three years. Outside of the SDC, I love taking walks, especially ones that explore different neighborhoods of Seattle, browsing Zillow for houses I will never live in, listening to music, rollerskating (when the IMA had pre-COVID Friday Night Activities) and watching cooking videos on YouTube.

Advocacy and Outreach Coordinator
Malikai Bass (he/him)
Malikai Bass, Outreach and Advocacy Intern, 2020. Malikai is a graduate student studying Museology. He has been involved in formal disability activism since the age of fourteen as an Autistic self-advocate. Malikai advocates heavily for visible changes for invisible disabilities and is very passionate about bathrooms! On the weekends, he tutors, plays video games, and hangs out with his dog.

Advocacy and Outreach Volunteer
Toby Gallant (he/him)
Hi everyone! I'm Toby! I'm a freshman here at UW hoping to major in Education and Political Science with a minor in Disability Studies. I'm super excited to be serving as the Advocacy and Outreach Intern this year for the SDC! Through participation in Best Buddies, Special Olympics, and working as an aide for children with intellectual and developmental disabilities, I have become involved in disability advocacy and awareness. I'm super passionate about education reform, especially through creating curriculum and policies to ensure accessibly and inclusionary measures for all students. In my free time I love exploring the outdoors, going thrifting, and finding new coffee shops.

Multimedia Coorinator
Joyce Lin (she/her)
HI, I'm Joyce (she/her) and I'm the Multimedia Coordinator for this 2020-21 school year! I'm a junior majoring in Interaction Design and minoring in Art History and Ethics. Even though I'm hard of hearing, I grew up mainstreamed and didn't know anything about Deaf culture or the disability community until I got to UW. I joined the SDC and got involved with disability activism last year because there are so many issues with accessibility that I have felt firsthand growing up, but learned to stay silent. I realized that this is a huge disservice not only to myself but to everyone else who isn't aware of how to be inclusive and accessible to disabled people. I want to bring this experience at the SDC into my future work as an interaction designer and to create accessible products (especially when this is so overlooked) when I graduate. In my free time, I take on a lot of design projects to explore causes I'm passionate about, and love going on hikes, being outdoors, traveling, and visiting art museums!

Student Advisory Board Representative
Sally Xinle Zhou (she/her)
Speech and Hearing Sciences, Student Advisory Board Representative, I would like to address the intersectionality between disability activism, public health, and racial inequality in our community. I am hoping that all UW students (marginalized groups, non-traditional college students, international students, transfer students, the list goes on!) who identify with a disability/disabilities are celebrated and supported! I LOVE exploring the nature, going on hikes in the beautiful national forests surrounding us here in Washington. I also love baking and making my own kombucha!
Interested in applying for an internship position? Check out the application and job descriptions here.