Student Disability Commission
SDC History
"To get where we are now has taken a fight, and it's taken people having a consciousness of themselves as a group, as a disability community banding together saying these are issues we want to address. Hopefully, by looking at what people did in the past, we can build on that, and learn that we are not just repeating the same fights but making progress."

Joanne Woiak, UW Disability Studies Program, 2011
ASUW Disabled Student Commission
The Student Disability Commission, previously known as the Disabled Student Commission, was established in 1974 by a student group called the UW Disability Student Association. The Commission advocated for equal access, as part of the disability rights movement that began in the 1970s. The Commission, led by mainly wheelchair users, highlighted the numerous inaccessible barriers present on UW's campus Through protesting in Red Square and creating numerous petitions, disabled student activists were able to push to the administration to create an accessible route from Drumheller Fountain to Red Square.
After the ratification of the Americans with Disabilities Act in 1990, the Commission continued to advocate for equal access and opportunities. However in 1994, the Disabled Student Commission disbanded itself from ASUW due to feelings of alienation from the greater campus community.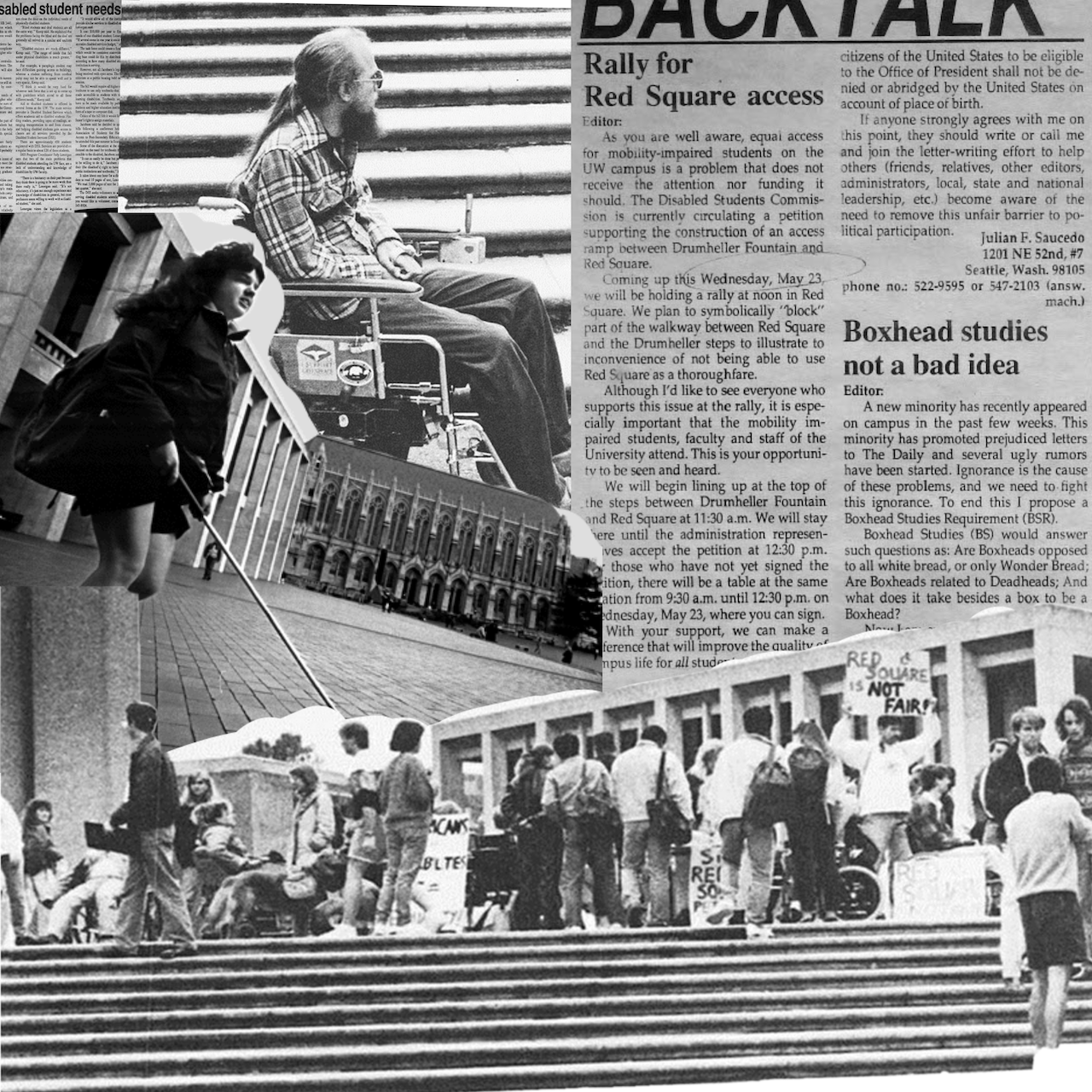 ASUW Student Disability Commission
In 2004, the Commission was brought back to ASUW and ever since has played a major role in impacting and creating Disability-related services.
In 2013, leadership of the Commission and disabled student activists in UW's Disability Advocacy Student Alliance were responsible for the creation of a Disability and d/Deaf Cultural Center. The D-Center is now located in the Husky Union Building – Room 327!
In 2017, the SDC launched our Distance Learning Now campaign advocating for widespread accessibility, remote access, and lecture capture technology at UW. For the past 5 years, the SDC and disabled student activists have been advocating for distance learning through numerous mediums – ASUW Student Senate, UW Administration, UW Faculty Council and Senates, Washington state Legislature, and Washington Student Association. 
In 2018, the SDC launched our F*** Stairs campaign asking students without mobility aid impairments to take accessible routes for two weeks. This challenge was meant to demonstrate just how inaccessible and unwelcoming physical spaces continue to be, even 30 years after the signing of the ADA. Additionally, the campaign displayed solidarity among wheelchair users and folks with mobility impairments. Now, the disabled students that built the F*** Stairs campaign have founded Crip Riot, a disabled-owned and led company committed to bringing expressions of disability pride to the world, through unapologetic clothing, media, education and activism. Crip Riot exists to honor the rich political history of riots and the punk movement which transcends the disability pride movement and incorporates the social rights of people of color, queer and trans people, women, and other communities impacted by systemic violence and oppression. Crip Riot is currently working to bring F*** Stairs to universities across the U.S!
In 2018, the SDC started a working group to create a proposal for a new office within the ASUW that would be called the Office of Inclusive Design (OID). The OID would provide funding and guidance to student clubs and ASUW entities who are seeking to make their events and offices more accessible to all. This is not limited to disabled students: OID would also seek to create greater access for commuter students, working students, student parents, religious minorities, etc. After two years of advocating for the office's creation, an ASUW Board of Directors Bill was passed allowing OID to become an ASUW entity in Fall of 2021. 
In 2019, leadership of the Commission advocated for more staffing and funding for Disability Resources for Students (DRS) to UW administration. The SDC was successful in securing two additional positions at DRS to help with their high case load.