Student Disability Commission
2019-2020 Team
Director
Christine Lew (she/her)
Hello everyone! I'm currently a junior here at the University of Washington, double majoring in Psychology and Disability Studies, with a minor in American Sign Language. I'm also involved in the Interdisciplinary Honors program here at UW. Both of my parents are Deaf (CODA!), and my focus is mainly in Deaf pride/advocacy. I've been involved with Special Olympics Washington for several years, and I'm a volunteer with the Hearing, Speech, and Deaf Center (HSDC) in Seattle. Last year, I was the Assistant Director for the Student Disability Commission, and I'm thrilled to serve as the Director this year. I love advocacy, sharing stories, and vines. Our office has coffee/tea/hot chocolate and soft lighting…so if any of that sounds interesting to you, stop by during my office hours! Come chat!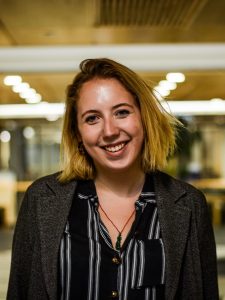 Assistant Director
Camille Hattwig (she/her)
Hi y'all! I currently a junior studying Sociology and Disability Studies with a minor in Gender, Women and Sexuality Studies and am also a student in the interdisciplinary honors department! I have been involved with the SDC for two years now, and love to channel my passion for disability rights into my campus wide advocacy work. In addition to my role as Assistant Director I also serve on the Provost Advisory Committee for Students (PACS), the Student Activity Fee Committee (SAF) and serve as the Off-Campus committee chair in ASUW Student Senate! In addition to my love for advocacy I also have a huge passion for mentoring the next generation of activists and advocates on campus, which is why I love getting to lead our intern team and work with the senators in my committee so much! Always feel free to come say hi during office hours, and tell me about your favorite tik tok trend. 😊

Community Outreach Intern
Jim Lawler (he/him)

Jim is a transfer student from Bellevue College and is now in the University of Washington school of Social Work. Jim strives to integrate universal and sustainable design. Prior to his current position at University of Washington's DRS and the ASUW Student Disability Commission, Jim has sat on a committee representing students with invisible disabilities at Washington State University and worked as a project manager at Bellevue Colleges Disability Resource Center. During his time at Bellevue Colleges DRC, Jim developed an accessible paper-free intake process as well as headed the "Going Green" initiative. In his personal life, Jim enjoys Tina Turner, volunteering for Planned Parenthood, getting beat up by his miniature poodle Mochi & obsessing over 80s Sci-Fi tinfoil theories. #thecometisavolcryn
Public Policy and Advocacy Intern
Grace Fredman (she/her)

Hi all! My name is Grace Fredman, I am a second year at UW majoring in Law, Societies & Justice and minoring in Disability Studies. My main focus is disability policy and law on and off of the UW campus! I am also involved with Washington Civil and Disability Advocate as an intern and this year I am working as the Public Policy and Advocacy Intern, which has been very exciting and interesting. If there are any changes in accessibility or disability related issues that you would like brought up to ASUW through Student Senate, please let me know I would love to work with students to bring new legislation to the table!
Disability and Healthcare Advocate
Katherine Chamblin (she/her)
Hi there, I'm Katherine and I am a junior studying Speech and Hearing Sciences with a minor in Disability Studies. I aspire to become a physiatrist, or physical medicine and rehabilitation doctor. This year I hope to channel my passions in both healthcare and disability as the Disability and Healthcare Advocate this 2019-2020 year. In my pockets of free time, I enjoy reading, running, going on walks, hanging out with my friends, and drinking Chaiders from Cafe Allegro.
Universal Design Consultant
Grady Thompson (he/him)
Hi! My name is Grady Thompson, and I am the SDC's Universal Design Consultant for the second year. My position focuses on advocating for inclusive and accessible events, programs, and facilities at UW, with an emphasis on student organizations. This year with the SDC, I'm most excited to be on the ASUW Office of Inclusive Design Taskforce! I am a disabled student, majoring in Informatics and minoring in Disability Studies. I also work as a student assistant for UW-IT Accessible Technology Services. Email me at any time if you have questions about universal design or accessibility, or anything else!
Event Planning Intern
Trayana Rogers (she/her)

Hello, my name is Trayana Rogers and I am a junior here at the University of Washington. I intend to graduate in the fall of 2021 with a degree in microbiology. I could not be more excited to work as SDC's event planning intern this year! Promoting disability awareness, incivility and accessibility is something that I am very passionate about and I look forward to what the year has in store.
Event Services Intern
Hailey Jensen (she/her)

Hi everyone! My name is Hailey, I use she/her pronouns, and I'm currently a junior here at the University of Washington! I am double majoring in Nursing and Disabilities Studies. I love music, dancing, poetry, and iced coffee! For the past nine years, I've volunteered for recreation inclusion events for the city of Federal Way. More specifically, I have had the opportunity to be a co-director for Friendship Theatre, an inclusive theatre program. However, I am thrilled to serve my peers as the Event Services Specialized Lead this year at the SDC! If you see me around, don't hesitate to say hello!
Administrative Assistant
Ruslan Pashkov (they/them)

Hello! My name is Ruslan and I am a transfer student and am graduating in spring 2020 with a degree in Sociology. I am a queer, mentally ill, first-gen student. I am passionate about combating stigma around mental illnesses in and outside of our university. I am also interested in the sociology of death! In my free time, I read comics, take the ferry, and sleep. I look forward to getting to know the disability community on campus better and doing my part to improve this school!
Advocacy Data Specialized Lead
Devon Sheehan (she/they)
My name is Devon and I am a sophomore and I am majoring in political science, LSJ, and History. I am the Advocacy Data Specialized Leed for the SDC this year and I am so excited to start this role and to learn from the community that I never have before. I am originally from Chicago, but I have also lived in Oklahoma, Virginia and New Jersey, but Washington has by far been my favorite. I have two dogs named Duffy and Darcy who I love very much, and I love hiking in my free time.
Multimedia Coordinator
Lindsey Muszkiewicz (she/her)
My name is Lindsey, and I'm majoring in CHID (Comparative History of Ideas) and Disability Studies, with a focus on disability representation in the media. I'm a disabled lesbian, and want to be an animator or scriptwriter when I graduate! I've always loved movies and stories and seeing them come to life in film, but there has always been something missing; people who look like me. I believe that more diverse voices should be heard and seen on screen, and I want to make it my life's work to make that happen. As the Multimedia Intern, I am striving to start doing that here, with the SDC!
Student Advisory Board Representative
James Mertens (he/him)
James is a senior-standing Cinema and Media Studies major, incorporating disability activism into his studies and daily life. With multiple physical and mental conditions, campus accessibility is a major priority for them, as well as the intersectionality of disability with other identities.
Social Media Specialized Lead
Joyce Lin (she/her)
Hi, my name is Joyce and I am a sophomore majoring in Interaction Design with a minor in Art History. I am hard of hearing and finally getting to learn about Deaf culture and ASL this year! Through this position, I hope to learn more about disability social issues and advocacy and carry this experience with me as I tackle inaccessibility within tech and design in the future. In my free time I enjoy hiking, taking advantage of sunny days, petting dogs, and visiting art museums. Feel free to reach out anytime to share about disability news and issues around campus, Seattle or in general!